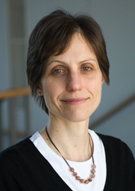 Dr. Rebecca Betensky
Email: rb4344nyu.edu
New York University
Status: Faculty
Department: Biostat,
Will Mentor: Doctoral students, Pre-doctoral students
---
Areas of Expertise
Applied Statistics, Biostatistics,
Research Interests
Statistical methods for clinical trials, biomarker studies, time to event studies, with application to cancer and neurology
Bio
PI of a T36 grant from NIGMS: Pipelines into Biostatistics: Training in Quantitative Public health, that supports a summer program for undergraduates, a faculty workshop for faculty from minority serving institutions, a post-baccalaureate program, and a symposium. She has been involved with the Summer Program in Quantitative Sciences as a faculty mentor since 1996 and is intimately familiar with its history and evolution. She has a deep commitment to all types of diversity in academia. She was also PI of the IMSD grant until September, 2008, when she transferred it to Dr. Ichiro Kawachi. In addition, she has chaired the Diversity Committee of the Department of Biostatistics, and is a Faculty Ambassador to Xavier University.
She is director of a training grant (T32 NS048005), originally awarded by NINDS in 2004 and renewed through 2014, titled Training in Neurostatistics and Neuroepidemiology. She has been a primary trainer on the Department of Biostatistics cancer, AIDS and Psychiatric Epidemiology training grants for several years. She has been the primary thesis advisor for 13 pre-doctoral students and 12 post-doctoral students, and has served on many thesis research committees. Dr. Betensky has a strong record of methodological research in statistical methods for cancer, neurology and genetics, with a focus on survival data, clinical trials, and complex sampling models.