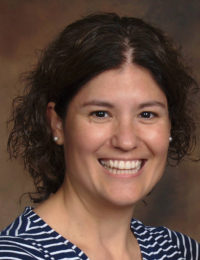 Dr. Malena Espanol
Email: malena.espanolasu.edu
Arizona State University
Status: Faculty
Department: Math, Stat,
Will Mentor: Doctoral students, Pre-doctoral students
---
Areas of Expertise
Applied Mathematics,
Research Interests
Computational and applied mathematics
Bio
I am originally from Buenos Aires, Argentina. I received my B.S. in Mathematics from the University of Buenos Aires. After earning my M.S. and Ph.D. in mathematics from Tufts University, I spent three years as a postdoctoral scholar at the California Institute of Technology. I joined the Department of Mathematics at The University of Akron in 2012. As of 2019, I am a faculty member at Arizona State University in the School of Mathematics and Statistical Sciences.
My research interests are in applied and computational mathematics. More specifically, I am interested in the development, analysis, and application of mathematical models and numerical methods for solving problems arising in science and engineering. My recent research on mathematical modeling of carbon nanostructures has been supported through an award from the National Science Foundation.
I have mentored undergraduate students at Caltech and undergraduate students and master students at UA in research projects. I have served as the faculty advisor for both SIAM and the Association for Women in Mathematics (AWM) student chapters at UA. I have co-organized a Networking Luncheon for Women in Math of Materials (WIMM) and helped to create a research community for WIMM. I have been a member of the SIAM Diversity Advisory Committee and the AWM Student Chapters Committee.
I have co-organized many sessions at SIAM (Society of Industrial and Applied Mathematics) conferences, served as an NSF review panelist, been an MAA Project NExT (New Experiences in Teaching) Fellow from 2012-2013 and a managing editor of the journal Electronic Transaction on Numerical Analysis (ETNA).