2022 Ewha-Luce International Seminar in Webinar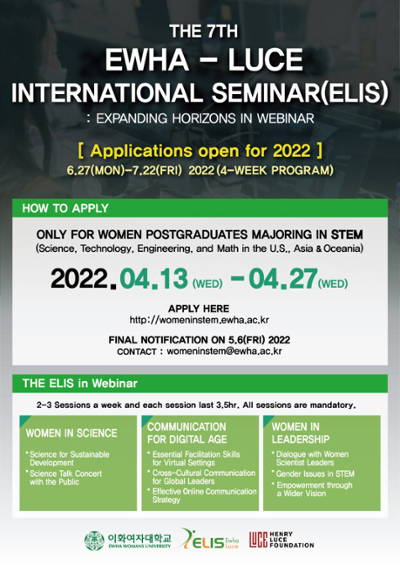 The 2022 Ewha-Luce International Seminar (ELIS): Expanding Horizons in Webinar will be held from June 27th(Mon) to July 22nd(Fri).
ELIS is an intensive leadership training seminar that brings together highly talented female graduate students in the fields of science, technology, engineering, and mathematics (STEM) from the U.S., Asia, and Oceania.
This year, ELIS will be conducted for four weeks online, which consists of 2-3 sessions per week and each session takes up to 3- 3.5 hours.
We would like to welcome students to participate in ELIS 2022 to expand their horizons and develop their women leadership.
We would be grateful if you could share this opportunity with your women postgraduate students to encourage their participation, and if you could recommend eligible candidates.
If you would like to share your students' names and email addresses with us, we can contact them personally and help them with their application process. 
Attached is our ELIS 2022 poster and project brief. Please feel free to share this with your colleagues and students.
Your support will greatly empower future women leaders in the fields of science and technology.
ELIS-2022-project-brief (PDF)