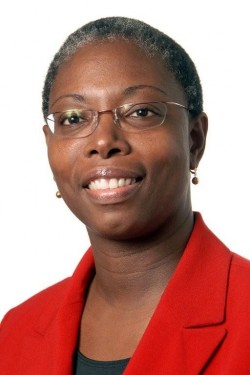 Department of Statistics, North Carolina State University
Jacqueline M. Hughes-Oliver is Professor of Statistics at North Carolina State University (NC State). She earned her PhD in Statistics from NC State in 1991, following a BA in Mathematics from the University of Cincinnati in 1986. After one year at the University of Wisconsin—Madison, Dr. Hughes-Oliver returned to NC State where she transitioned through the usual academic ranks. She served as Faculty Fellow at the Statistical and Applied Mathematical Sciences Institute (SAMSI), and was Professor of Statistics at George Mason University. Dr. Hughes-Oliver was Director of the Exploratory Center for Cheminformatics Research at NC State (2005-2009), and was Director of Graduate Programs for the Department of Statistics at NC State (2007 to 2010).
Dr. Hughes-Oliver has a variety of research interests. Since 2000, her research has been sponsored by a number of agencies, including multiple awards from the National Science Foundation, the North Carolina Department of Transportation, and more recently the National Institutes of Health through the Roadmap Initiative. Her methodological research focuses on prediction and classification, analysis of high-dimensional data, variable and model selection with dimension reduction, design and analysis of pooling or mixture experiments, optimal design, and spatial modeling. Application areas include drug discovery and cheminformatics, ontology-driven analysis of microarray studies, metabolomics, point sources, environmental modeling, engineering manufacturing, and transportation modeling. Her research is motivated by current health-related and environmental issues, and to discover new medications in an efficient way.
In addition to research activities, Dr. Hughes-Oliver is extremely committed to teaching at all levels. She has several times been recognized with Outstanding Teacher Awards and election to the NC State Academy of Outstanding Teachers. In 2001 she was named an Alumni Distinguished Undergraduate Professor at NC State. She was also recognized in 2004 with the Board of Governors' Award for Excellence in Teaching from the College of Physical and Mathematical Sciences at NC State.
Service to the profession includes elected and appointed positions in the American Statistical Association (ASA), and the Eastern North American Region (ENAR) of the Biometrics Society. Dr. Hughes-Oliver serves or has previously served on the editorial boards of Chemometrics and Intelligent Laboratory Systems, Journal of the American Statistical Association, and WIREs Computational Statistics. She has served on review panels for the National Science Foundation, and the National Institutes of Health. She currently serves on the EPA Science Advisory Board's Chemical Assessment Advisory Committee.
Dr. Hughes-Oliver is passionate about outreach to underrepresented groups in the mathematical and statistical sciences. She has extensive service to conferences and workshops such as StatFest, Field of Dreams, Infinite Possibilities, Joint Statistical Meetings Diversity Program and Mentoring Workshop, and ENAR Diversity Workshop. She also currently serves on a number of boards focused on broadening participation, including the National Alliance for Doctoral Studies in the Mathematical Sciences, and the African Diaspora Joint Mathematics Workshop (ADJOINT).
Other awards include the D.D. Mason Faculty Award from the Department of Statistics at NC State (2006), the ASA's 2006 Statistics in Chemistry Award, Fellow of the ASA in 2007, and the Blackwell-Tapia Prize in 2014.
Dr. Hughes-Oliver has had a long association with the Math Alliance, dating back to 2007. In addition to shared commitment towards diversifying the mathematical sciences, Dr. Hughes-Oliver has participated in various Field of Dreams Conferences and has served as F-GAP graduate mentor for many years.