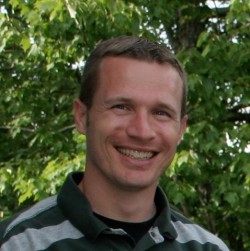 Anthony Tongen received his Ph.D. in 2002 in Applied Mathematics from Northwestern University and his B.S. in Applied Mathematics from the University of Pittsburgh. Currently, Dr. Tongen is an Associate Professor in the Department of Mathematics and Statistics at James Madison University (JMU). While teaching numerous courses, he has inspired students to pursue undergraduate research. This quest for undergraduate research experiences for all students has included creating class projects for each of his courses that resemble a short-term research project. Several posters from Dr. Tongen's classroom projects have won prizes at conferences and competitions. A recent publication, Keeping it R.E.A.L.: Research Experiences for All Learners with Carla Martin, emphasizes these types of projects for numerical courses.
Dr. Tongen is a co-PI on a NSF Interdisciplinary Training for Undergraduates in Biological and Mathematical Sciences (UBM). Through this grant, he has co-advised biology and mathematics majors in undergraduate research in mathematical biology with biology faculty. Dr. Tongen was also a co-PI on a grant through the Center for Undergraduate Research in Mathematics at BYU, funded by the NSF, to advise academic year research experiences, focusing on mathematical biology. He has also advised research through the NSF Research Experiences for Undergraduates (REU) grants in both materials science and mathematics at JMU.
Dr. Tongen is the founder and director of M3: Mentoring for Minorities in Mathematics. M3, founded in 2007, has received generous support from the MAA's National Research Experience for Undergraduates Program (NREUP) funded by the National Science Foundation and the National Security Agency. M3 has been a defining experience for participants and many colleagues have commented on the growth of the students' mathematical capabilities.