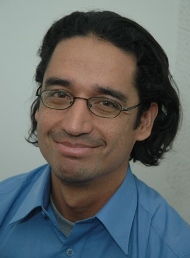 Angel R. Pineda is originally from Honduras where he attended high school. He received his B.S. in chemical engineering from Lafayette College (1995), his Ph.D. in applied mathematics from the University of Arizona (2002) and his postdoctoral training in the radiology department of Stanford University (2006). He started his academic career at California State University, Fullerton and is currently an associate professor of mathematics at Manhattan College.
In his research, he applies mathematics and statistics to improve medical imaging. His main contributions have been in the assessment of image quality in x-ray imaging (digital radiography and computed tomography) and optimization of data acquisition in magnetic resonance imaging (MRI).
As a research mentor, he has worked with fifteen undergraduate and five graduate students in research projects. He also has mentored a team of students working on industrial projects.
Dr. Pineda only speaks of himself in the third person when writing biographies and would be happy to mentor students who are interested in applied and industrial mathematics.